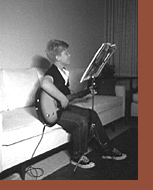 Stan Sorenson

Inspired by an Herb Ellis recording his parents owned, Stan began guitar lessons at the age of eight . After seven years of private lessons, Stan began his professional career performing on the guitar in an accordion-based pop/polka band and an all-original jazz/rock band.
Two years later Stan enrolled in the Phoenix College School of Music to explore and further his music skills. At Phoenix College, Stan studied classical and jazz guitar along with composition, theory, acoustics, photography, and other related art and music fields. Stan pursued a degree in Jazz Performance at Arizona State University. He received private lessons from several internationally renowned jazz guitarists including Joe Pass, Gene Bertoncini and Joe D'orio.
Stan has performed locally and internationally, working with such greats as Nancy Wilson, Jimmy Smith, Rosemary Clooney, Vic Damone, Jeffrey Osborne, The Fifth Dimension and many others. Stan's various jazz ensembles have performed at numerous festivals and have opened for Ella Fitzgerald, Burt Bacharach, David Benoit, Ray Charles and others in his long and varied career. Stan has played in the Phoenix Symphony and orchestras for many professional touring-company Broadway style musicals including Zorba the Greek (starring Anthony Quinn), Annie, 42nd Street, A Chorus Line, Aida and Hairspray. Most recently, Stan has had the pleasure to perform with the Phoenix Symphony backing Audra McDonald and Brian Stokes Mitchell as well as their Gershwin and Rogers and Hart programs. Stan also has played with Delphine Cortez, Margo Reed, Dennis Rowland and jazz greats, George Benson and Joey DeFrancesco besides performing at his own gigs.
Visit his Music Samples page to listen to brief samples of his musical style.
Click Here to download a PDF of my Bio
Click Here to download my Promo Photo in pdf
Click Here to see a Review of Stan in PDF format